Women Increasingly Seeking Premarital Agreements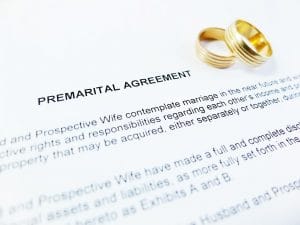 A common assumption about premarital agreements is that they are created for well-to-do men in the event of a divorce. While individuals and couples with significant assets can benefit from premarital and postmarital agreements, the "old chestnut" that men are the ones requesting these documents can be laid to rest.
As of 2017, "41 percent of mothers were the sole or primary breadwinners for their families, earning at least half of their total household income. This includes single working mothers and married mothers who out-earn their husbands," per the Center for American Progress. As more women claim the mantle of "head of household," it follows that increased numbers of women would seek premarital agreements.
What information goes into a premarital agreement?
A premarital agreement, also called a prenuptial agreement, is an enforceable legal document which often determines how all the assets and debts of each person will be owned during the marriage, and after if there is a divorce. Under the Uniform Premarital Agreement Act, such agreements may address:
The rights and obligations of each of the parties in any of the property of either or both of them whenever and wherever acquired or located;
The right to buy, sell, use, transfer, exchange, abandon, lease, consume, expend, assign, create a security interest in, mortgage, encumber, dispose of, or otherwise manage and control property;
The disposition of property upon separation, marital dissolution, death, or the occurrence or nonoccurrence of any other event;
The modification or elimination of spousal support;
The making of a will, trust, or other arrangement to carry out the provisions of the agreement;
The ownership rights in and disposition of the death benefit from a life insurance policy;
The choice of law governing the construction of the agreement; and
Any other matter, including their personal rights and obligation.
Premarital agreements may also determine that in the case of a divorce, whether a couple will mediate, arbitrate or litigate in court, who will retain control over a business, or how retirement funds are to be divided. They may not include any provisions regarding child support or child custody; those are worked out separately.
How premarital agreements and postmarital agreements can protect breadwinning women
There may have been a time when men would not take money from women as alimony, but not anymore. In a 2018  survey conducted by the American Academy of Matrimonial Lawyers (AAML), 54% of the attorneys cited an increase in the number of mothers paying child support during the past three years, while 45% have also seen a rise in women being responsible for alimony." If you are relying on old-fashioned notions regarding finances, you could be in for a rude awakening if you do not have a premarital agreement.
Prenuptial agreements can provide that neither party will pay alimony in the case of a divorce. If there is no premarital agreement, then a postmarital agreement can be signed during the marriage if the wife did not start as the primary wage earner but became the breadwinner over the course of the marriage. A postmarital agreement is also beneficial if the wife inherits or is gifted money or property she wants to keep as her separate property.
Another benefit to both premarital and postmarital agreements is that they can allocate monies for education. If you have children who attend private school or college, you and your spouse can set aside a certain amount of money to be used for that education so that this money cannot be taken by one of the parents in case of divorce.
Finally, both types of agreements can outline how or if gifts are divided, including engagement rings (and other jewelry), art collections, real property, vehicles – even the family pets.
Couples with significant assets should have a premarital agreement in place before they wed. These are complicated documents and must be well written to be enforceable. At Hartsoe & Associates, P.C., we can help you prepare and draft your agreement, and represent you if your agreement is being contested or disputed. To speak with a family law attorney from our firm, please contact us in Winston-Salem or Greensboro: 336.725.1985, or fill out our contact form.
For Tony, the law is a calling, not a job. He is a mountain boy, with simple, straightforward values. Tony loves what he does, and loves to help people through some of the toughest moments anyone will ever face.  Learn More